The 2010 December Daring Bakers' challenge was hosted by Penny of Sweet Sadie's Baking. She chose to challenge Daring Bakers' to make Stollen. She adapted a friend's family recipe and combined it with information from friends, techniques from Peter Reinhart's book………and Martha Stewart's demonstration. You can download the recipe and instructions in PDF style here.
So…. Stollen. To be honest, i've never given it much thought. In Australia it's usually so hot at Christmas that you would have to be pretty hardcore to be baking Stollen so it's not something I have ever thought about cooking before. I haven't been much into the bread making as of late so I thought that this beautiful fruit bread would be the perfect way to get back into it!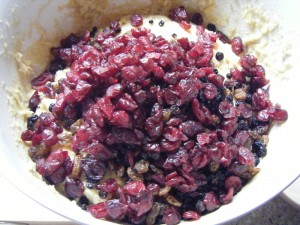 Im not a big fan so I thought that instead of adding the mixed peel, I would add Craisins. They're tasty and a festive red! I also substituted 70g of the raisins for 70g currants just to shake things up a bit.
I love kneading dough. I love the way it transforms beneath your hands from a sticky, lumpy mess…
To a silky smooth ball of yumminess.
I opted for a slow rise in the fridge over several days. And boy did it rise!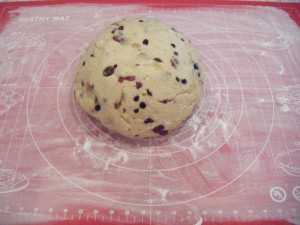 After bringing the dough back to room temperature, I popped it onto my nifty silicone kneading mat to roll out nice and thin. I LOVE this mat because 1. it's huge and 2. it has measurements along the sides so I dont keep having to use a ruler. Yay!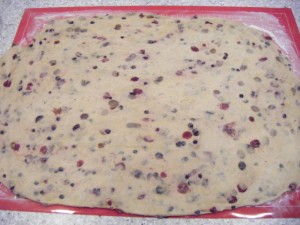 So I rolled that sucker out nice and thin (and relatively rectangularly…)
rolled it up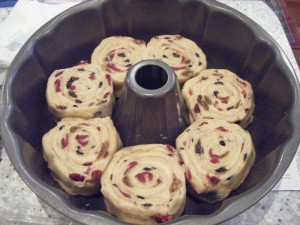 and cut it into 7 4cm long pieces to put into a bundt pan. I decided that the traditionally rolled Stollen might not fit properly into my oven once it had finished its second rise. I didn't realise that the recipe made so much!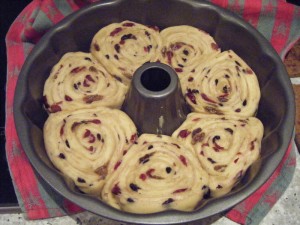 Then I left those babies to rise again
Ok. So I may have overcooked it a touch. I wasn't quite sure how long to leave it in the oven seeing as it wouldn't be as dense as the original recipe. I left it in for around 35-40 mins but it probably could have come out 5-10 mins earlier. It was still super tasty sliced and buttered and it looked very pretty dusted with icing sugar.
See!
Overall, it was a thoroughly enjoyable challenge. I normally wouldn't have baked something fruity at Christmas (i'm not a fan of traditional puddings or fruit cakes) but this forced me outside my comfort zone. I loved the finished product and found it tasty and festive. It felt like it should be snowing outside and I should be eating this toasted and buttered with a glass of mulled wine. Oh well, maybe next year I will have a European Christmas and whip out this Stollen recipe! Thank you to Penny for a fantastic challenge. I hope everyone had a wonderful and safe Christmas. Have a happy new year!!