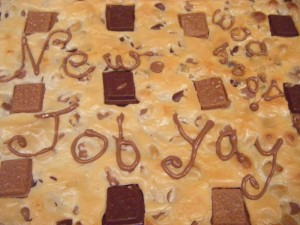 Now I just need to put a little disclaimer in here. I use the word "brownies" very loosely here because, well they aren't brownies (strictly speaking). Two things led me to bake this treat.
Number One: I was intrigued by this post by Bakerella about the strangely named Congo Bars. Basically, they're what we call Blondies, Brownies with white chocolate instead of cocoa. Yummo! Particularly apt because at that moment my pantry was absolutely full of cooking chocolate of the white, dark AND milk variety. They needed to be eaten.
Number Two: I got a new job! Yay! Now, most of you will have heard me bemoaning my chronic state of unemployment over the past six months. In a bit of an up and down week last week, I had two interviews and, finally, success! Of course, new jobness must be celebrated with the consumption of sweet, chocolatey mouthfuls of amazing. Yes, amazing is now a noun.
So I tried the Bakerella Congo Bars. Im not sure if I converted the measurements wrong, or missed an ingredient or what, but something went pretty wrong with these. They were too dry and just didn't cut it. So I searched and I searched and I found what I was pretty sure would be a good Blondie recipe. Thankyou, Hummingbird Bakery for sharing your delicious recipes with us mere mortals! I just upped the chocolate quota in this recipe and swapped the nuts for chocolate (like you didn't see that coming!) and voila! Amazing Blondies, truly worthy for such a celebration. Enjoy!
I subscribe to the belief that the batter is just the stuff that holds all the chocolate together. Yes I do.
mmmmm studded with squares of milk and dark chocolate…
Hooray for employment! These Blondies are excited too!
No such thing as a small piece. Particularly with this triple chocolate fudgey goodness!
Blondies – Adapted from the Hummingbird Bakery Cookbook
Ingredients
150g White chocolate
125g Unsalted butter
150g Caster Sugar
2 Eggs
1 1/2 tsp Vanilla Extract
200g Plain Flour
1 pkt Milk Choc Chips (I cant remember how big the packet was, just use however much you want!)
1 pkt Dark Choc Chips (As above)
6 Squares of Milk Cooking Chocolate (These are really optional, I just liked having a big square of chocolate to bit into at the center of each blondie!)
6 Squares of Dark Cooking Chocolate (As above)
Method
1. Put the white chocolate and butter in a heatproof bowl over a saucepan of simmering water. Leave until melted and smooth. (These are the instructions given by Hummingbird, I melted the butter in the microwave and melted the white chocolate in the butter and it turned out alright. Much less hassle than a double boiler too)
2. Add the sugar and stir until well incorporated
3. Add the eggs and vanilla extract, stirring vigorously so that the eggs don't cook
4. Add the flour
5. Mix in the choc chips
6.  Spread mixture into a baking tray and place the chocolate squares in the batter
7. Bake at 170 degrees celsius for 35-40 mins or until golden brown on top. DO NOT OVERCOOK!
8. Try not to pass out when you bit into all those amazing pieces of chocolate.