Let me begin this post with a reindeer.
She says hello. I first saw her before Christmas 2009 in David Jones and foolishly thought I would come back and purchase her another day. A few days later all the reindeer were gone!! I couldn't believe my luck when I visited the shop again in November last year and found a little herd of well dressed reindeer waiting to take up residence on my dining room table. Even though it is well and truly past christmas, I can't bring myself to put her away in a dark cupboard for the next 11 months. Poor thing 🙁 So, in an attempt to extend the season, here are a few things that made me happy this Christmas.
Chocolate Christmas Crackers
I bought these Jessica Walker Chocolate Christmas Crackers from David Jones a few days before Christmas. Although they don't make a "bang" they are filled with delicious milk chocolate balls. The chocolate is in the same style as the Lindt balls (of which i'm not a fan) but taste infinitely nicer. Plus, it was fun to yell out "bang" (despite them being 'crackers') when pulling them.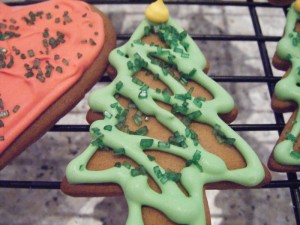 Gingerbread
Who doesn't love gingerbread? Well… the mothership for a start. Ginger causes her to malfunction so although she loves the way my gingerbread makes the house smell, she does not like to eat it. Every year I make a gingerbread house but this year was all about trying new recipes so I made some simple gingerbread biscuits decorated with royal icing and my awesome piping skills /end sarcasm.
Some christmas trees, stars and love hearts. Three fantastic things that all come together at christmas!
And then there are presents….
I received quite a few presents this year that are very relevant to this blog (and quite a few that are not but I might just post about anyway due to their extreme awesomeness). First up was an incredibly thoughtful package from my sister containing…
A Wilton icing turn table – a bit like a lazy susan that you can use to spin your cake around while you're icing it. Here I was thinking I was just particularly unco when icing cakes but I spied Buddy using something similar on Cake Boss which seemed to make things much, much easier. Here's hoping!
Several silicone sugar art moulds – in the shape of a bow, reindeer, flowers, hearts, happy/sad drama faces and a high heel shoe! Can't wait to try these out!
And even though in my excitement I didn't take a picture of these, I also got several bottles of artificial flavourings including Musk Flavour, Raspberry Flavour, Rose Flavour, Orange Flavour and Lemon Flavour. Oh the possibilities!!
From the beautiful Mr and Mrs S…
Amongst other things
A set of Palette knives, one little and one big one. But both are very useful for the icing of cupcakes and big cakes
A set of  modelling tools (bottom right hand corner) for intricate detailing
A silicone mould for many different types of leaves (which goes very well with the flower moulds from sis. Serendipity!)
A Wilton decorating triangle, which you can't see properly in the picture but is a plastic triangle with different indents on each side to make patterns in soft icing
Some super cute cookie cutters in shapes every girl needs – shoes, dresses, lips etc
A set to make Jam filled cookies!
And a few silicone baking sheets which will be less wasteful than covering the trays with baking paper each time I make cookies.
Far out, my baking drawer is very well stocked now!! I also got some gorgeous gifts from my super thoughtful boyfriend. Prepare to be very jealous of my…
Personalised apron! How cute is this! Argh it makes me melt a little inside each time I put this baby on I love it so much! And in case you cant see the part that is personalised, here is a close up
Bam! Cuteness!
And have you met Jessica?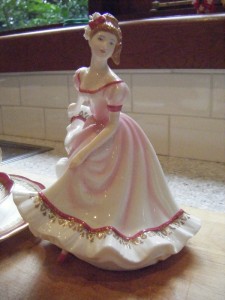 She's my other christmas present from the ever thoughtful boyfriend. I've always wanted to start a collection of Royal Doulton ladies because im such a sucker for their pretty dresses and elegant poses
and the shoes! Did I mention the shoes? So dainty!
Little Jessica here goes with the Holyrood pattern from the Royal Albert 100 years collection. The Holyrood was the first tea set my mum bought me out of this collection and she gave it to me as a graduation present back in '07. Its lovely to start my lady collection with the same pattern. Now I need to work on finding a beautiful (and safe!) place to display her.
So that was my Christmas (minus a few recipe posts I am still to write up) and it sure was a great one. I may even have to go out on a limb and say best christmas yet! I hope you all had a fantastic Christmas!