We all know that a spoon full of sugar helps the medicine go down, so why not gift some novelty sugar cubes that are quick and easy to make, not to mention being unbelievable cute!
All you will need is 125g caster sugar, 1tbsp water, some food colouring, baking paper and some small cookie cutters.
Add the water to the sugar and mix so that it resembles coarse sand.
Divide sugar among different bowls then add food colouring and mix
Place the sugar between two sheets of baking paper and press to a depth of around 1cm.
Using your cookie cutters, stamp out shapes. I used a pallet knife to transfer each sugar cube to a fresh sheet of baking paper, be careful as they are quite fragile while they are wet. Repeat with different colours and shapes.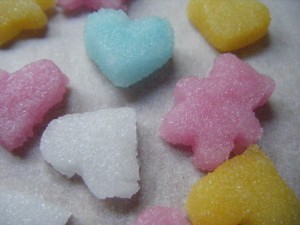 Leave to dry overnight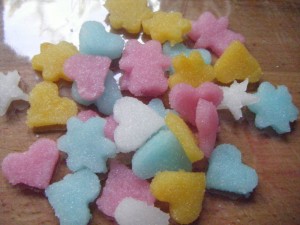 And package them into pretty boxes or cellophane bags. Easy!
So, starting the year off on a cute and sugary note, I hope to continue my cooking throughout 2011. 2010 saw me go through several jobs, highs and lows and a few near misses in the kitchen (*cough*stupid pears*cough*). With a stable, 1 year contract looming I hope to make 2011 a successful one in the career department (as well as all other departments!) but don't want to let my cooking fall by the wayside.
I began this blog when unemployed for a few long months, in an attempt to stave off the inevitable boredom and depression that comes with continuous rejection letters. While I no longer rely on this blog to fill the empty hours and minutes I spent waiting for the phone to ring, I have found this culinary journey so enjoyable that I hope to continue blogging throughout 2011. In order to do so, I have made a few cooking resolutions to keep me on track. I haven't had much success at keeping new years resolutions so hopefully I have come up with a few goals that I can achieve this year! What do you think? Achievable?
2011 Resolutions
1. Learn how to bake delicious, fluffy bread from scratch, without a bread maker
2. Learn how to cover whole cakes in fondant (inspired by the lovely KayB)
3. Finally crack the elusive macaron
4. Take consistently better pictures!
Hopefully by keeping the list small, I will not fail this year! So, my lovelies, what are your resolutions? Have you ever been able to keep them?
HAPPY NEW YEAR!!