I hate being late. Considering my utter disorganisation in every other area of my life, this might seem like a strange dislike, but there you go. I don't mind so much when other people are late, but I loathe arriving somewhere after an event has already begun or after everyone has already arrived. I would much rather get somewhere early and wait, calm and composed and relaxed.
But, alas, despite my best intentions for this post, I am several days late for the newest Sweet Adventures Blog Hop. Hopefully, this is a case of 'better late than never'?
I love gingerbread and the way it makes the house smell like Christmas when it's baking in the oven. I love the idea of making gingerbread houses, but I always forget how fiddly they are! Gingerbread houses are the sucker punch of baking. You get through making, chilling, rolling, cutting and baking the dough no worries. You enjoy it, the house smells nice, you sneak a bit of gingerbread dough while you're at it and then you're in a happy place. Until it comes time for assembly. Then BAM it all falls apart. Often literally.
I made my dough fine, thanks to the spiffy new Kitchenaid food processor
I chilled, rolled and baked fine
even the royal icing was working fine
but then my pink food colouring had mysteriously turned red (elves? i'm looking at you.)
and sliding walls necessitated impromptu scaffolding.
An engineer was consulted before lowering the roof on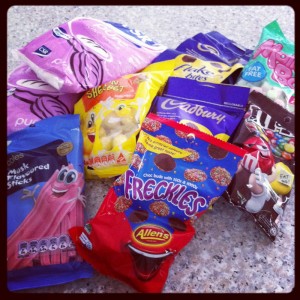 Decorating supplies were gathered. And, not too long after, we had a
complete house!
An all the reindeer gathered round.
Here's a side view. I think the world would be a better place if everyone's guttering were made of musk sticks and lemon sherbert. Who could be cranky and late then?
This post was part of the Sweet Adventures Festive Favourites Blog Hop kindly hosted by 84th&3rd.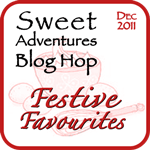 Gingerbread House Recipe – Taken from the Australian Women's Weekly Cook
Ingredients
4 1/2 cups (675g) self raising flour
3 tsps ground ginger
2 tsps ground cinnamon
1 1/2 tsp ground cloves
1 tsp ground nutmeg
185g butter, chopped
1 cup (220g) firmly packed dark brown sugar
1/2 cup (180g) treacle (I substituted golden syrup as I had no treacle and it worked fine)
2 eggs beaten lightly
assorted lollies for decorating
Method
1. Mix flour, spice and butter in a food processor until mix is crumbly
2. Add sugar, treacle and enough egg for the mixture to just combine
3. turn dough onto a floured surface and knead until smooth
4. Wrap in cling film and chill in the fridge for 1 hour
5. Roll out your dough to 5mm thick and cut out according to your pattern
6. Cook in the oven at 160 degrees celsius (fan forced) for 12 minutes or until they are just firm and golden
7. You will probably have excess dough so you can churn out a few trees or g-bread men if you like
8. Pipe some royal icing onto the corners of each piece in order to attach walls and roof. You may need to use some scaffolding to hold pieces in place while the icing dries. Leave undecorated house overnight to dry before decorating.
9. Secure decorations to the house by using extra royal icing
Royal Icing Recipe
Ingredients
2 egg whites
3 cups icing sugar (480g)
Method
1. Mix the egg whites lightly until foamy
2. Whisk in the icing sugar until a stiff icing is formed.
3. Decorate!