Who doesn't love birthdays? My own love for these annual celebrations has been well documented, as has my fervent belief that all birthdays should be celebrated with cake. Preferably coloured pink. So what did you think I would bake to celebrate the first birthday of this beautiful little blog?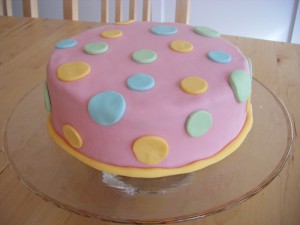 A pink birthday cake of course!
Note to self: be less predictable.
As I pondered the possibilities of decorating this cake, the work of Yayoi Kusama came to mind. Kusama is a famous Japanese artist who has a penchant for spots with a dash of craziness. Of the very psychedelic variety. See exhibit A:
I first stumbled upon her after buying a t shirt in Japan with her face on it. I had no idea who she was, or even if she was a real person, until a Japanese girl in an art gallery asked me if I was a Kusama fan. Smile and nod.
She brought an exhibition to the MCA in Sydney a few years ago which was clever and playful and ticked all the right boxes. So, while not quite as ground breaking as her work, I thought I would break out the polka dots for my blog birthday cake.
First came this chocolate cake and ganache
Apologies for the blurriness.
Then came the spots.
A spot over here and a spot over there and a spot in my ear and a spot in my hair
Well that was just overkill. There were no spots in my hair or ears…
All in all, not a bad effort! Apart from the lumpy ganache, but hey, its not THAT obvious is it? *whistles*
And with a bit of double cream and a cute cake fork, what better way to celebrate a birthday?
So, happy birthday blog, and thank you for keeping me sane over what was one roller coaster of a year! Here's to many more exciting years together  xoxo
So, my lovelies, what is your favourite kind of birthday food?