I seem to be accruing cooking magazines at an exponential rate. They come home with me, then sit on the coffee table for weeks until they get stacked on top of all the other cooking magazines in random places around the house. Under the desk, on top of books on the shelves, under the bed, in the closet… oh dear. I do flip through and ooh and ahh at the pictures thinking how i'd love to try cooking xyz. Somehow, I never seem to get my act together. Until now…
With the sudden chill factor, I couldn't go past the rice pudding recipe in this month's Delicious magazine (which I love!). I did think that 1.2 L milk to 1/3 cup rice was a little excessive, but, its Delicious! Who was I to question such authority? Damn right, thats what I was.
I ended up with a very tasty rice soup. Looks a bit like an omelette…
However, I do like my rice pudding more… well… puddingy! So I began to search for a good pudding recipe. Luckily, I didn't have to look too far! I went straight to the Australian Women's Weekly cookbook and tried their rice pudding. I substituted the cup of skim milk for a cup of cream (If you're eating rice pudding you cant be worrying about your waistline!) popped it in the oven and crossed my fingers.
Looks good so far, no excessive liquid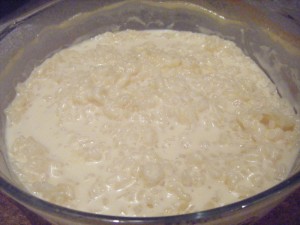 Hooray! I can see the rice!
It was so so tasty, and with a little bit of cinnamon on top… mmmmmmm!
Be careful though, keep it stored with the silver foil over the top as it did develop a little bit of a skin. Im not sure if it was the cream substitution, but it still tasted good the next day so a little bit of a skin was no worry. Don't worry Delicious! I still love you! But AWW did win this round, you're going to have to pull something pretty special out of the bag next time…
So my lovelies, what is your favourite dessert to warm you up on a cold winters night?
Rice Pudding – From The Australian Women's Weekly Cookbook
Ingredients
1/2 cup (100g) medium grain rice (I used arborio rice)
2 cups (500ml) full cream milk
250 ml thickened cream (you can use skim milk if you want, but why?)
1 tsp vanilla extract
1/4 cup (55g) caster sugar
Method
1. Rinse the rice under cold water and spread on the bottom of a shallow, 1 litre baking dish
2. Combine the milk, cream, vanilla and sugar in a saucepan and bring to a boil
3. Pour the hot milk mixture over the rice and mix gently with a fork
4. Cover the dish tightly with silver foil, bake for 1 1/4 hours at 150 degrees celsius