I've never been a morning person. I'm a chronic pusher of the snooze button. In fact, I have been known to sleep clear through my alarm. On several occasions. I frequently miss breakfast, my wardrobe is full of things that don't need ironing and I snore. Well, snoring isn't strictly relevant to my morning routine but hey, at least I'm honest.
So it might surprise you to know that for the last term i've been getting up half an hour earlier than usual in order to do some much needed exercise. As much as I love baking, I was not loving the squishy unable-to-fit-into-my-clothes feeling. Those of you who are fellow not-morning people will attest that the lure of warm sheets and sweet dreams often counteracts any good intentions re: exercise so I needed to come up with some strategies to tumble me willingly (or unwillingly) out of bed.
Setting three separate alarms was a good start
Opening my curtains so that the sun shone on my face was another good one
But I think the most effective was knowing I had enough time for a delicious breakfast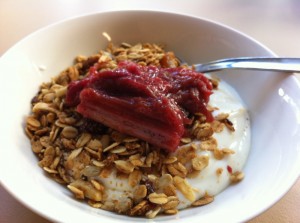 like this one!
After not being able to find any cereals in the supermarket that weren't loaded with sugar but actually tasted nice, I decided to make my own granola. After my morning exercise, I sprinkle some of this onto some vanilla yoghurt and then, if i'm super organised (or motivated) I top it off with some stewed rhubarb. Because how delicious is rhubarb!
I started with the rhubarb stewing after I had some rhubarb stalks left over from a cake I made. There were too many precious ruby stems to throw away, yet not enough to make another cake or tart. So I chopped the stems up into 2 inch lengths and whacked them into a saucepan along with one split and de-seeded vanilla bean and two tablespoons of caster sugar. I think that if you really wanted you could omit the sugar to make it healthier, but I quite enjoy the extra sweetness to balance out the tartness of the rhubarb.
it really is as simple as that. Whack it all together over a medium heat
watch the sugar dissolve
and marvel at all the pretty colours!
then simmer for 20 mins or until rhubarb is tender and all the sugar is dissolved.
As the mornings are becoming chilly. you could even reheat the rhubarb before adding it to your breakfast if you need a little bit of warmth. The other thing that you could do is to add warm milk instead of yoghurt then add your warmed up fruit. Either way, this is certainly a breakfast to get out of bed for!
So, my lovelies, are you a morning person? Or do you find yourself similarly cocooned in the warmth of your blankets and unable to wrench yourself free to begin the day?
Stewed Rhubarb
Ingredients
3 stalks of rhubarb (you can increase the quantities if you want to make a bigger batch, just whack in an extra vanilla bean and a little more sugar)
2 tbsp caster sugar
1 vanilla bean, split and de-seeded
Method
1. Wash and trim your rhubarb stalks, then chop each stalk into 2 inch long pieces
2. Place rhubarb in a small saucepan along with sugar and the vanilla bean and seeds
3. Place saucepan over a medium heat and stir occasionally for 20 mins or until rhubarb is tender and the sugar has dissolved
4. Remove saucepan from heat, remove vanilla bean and leave to cool
5. Spoon rhubarb and sauce over cereal or ice-cream and store the rest of your fruit in an airtight container in the fridge for up to two weeks