After making a few different chocolate cakes and realising that none of them were any good, I thought I would make one last attempt. Enter – Donna Hay Magazine. I bought this magazine the other day after being droolingly drawn to the enormous chocolate cake gracing its front cover. This Chocolate Buttermilk Layer Cake would be the basis for the finally finished birthday cake for the Ginger Ninja.
I decided to do a test run on friday to make sure that it wasn't another dud recipe. Worry I need not. It. Was. Amazing. So amazing that when my mum came home she said "oh….  wouldnt it be nice if there was one for me…" and, well, how could I resist? So after baking another cake and another batch of cupcakes, I have decided that the richness, glossiness, tastiness and sheer consistency of this recipe may have earned it the crown of Best Chocolate Cake Ever. Really. Donna Hay… amazing.
So without further ado, here are pictures of the completed African Jungle Cake! Hooray! P.S. HAPPY BIRTHDAY NINJA!
I decided to make the cake like a bunch of trees, so the figures on top are sitting in the branches! A bit rough, but you get the idea…
And here are a couple of pics of the cupcakes and their mini animals!
Hooray for mini African animals!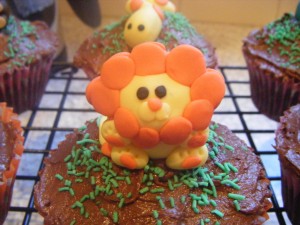 Have you met Lenny the Lion?
So my lovelies,  what is the best birthday cake you have made for someone or someone has made for you? I would love to know!
Chocolate Buttermilk Layer Cake
Recipe – From Donna Hay Magazine
Ingredients
1 cup (250ml) water
125g butter
1/3 cup (35g) cocoa
2 cups (300g) plain flour
1 tsp bi-carb soda
2 cups (440g) caster sugar
2 eggs
1/2 cup (125ml) buttermilk
1 tsp vanilla extract
Method
1. Place water, butter and cocoa in a small saucepan over medium heat and stir until the butter has completely melted and the mixture is smooth
2. Place flour, bi-carb and sugar in a bowl, and whisk in the cocoa mixture
3. Add the eggs, buttermilk and vanilla and mix until smooth
4. Divide the mixture between two 18cm round cake tins and bake for 40-45 mins at 160 degrees celsius (I took all my cakes out at right on the 40 min mark but it might vary depending on your oven)
NOTE: you can alternatively make these as cupcakes, they will make around 18-20 depending on how big your patty pans are and how full you want them to be. They will still be AMAZING!
Chocolate Cream Cheese Frosting – from Donna Hay Magazine
Ingredients
100g butter
500g cream cheese
2 cups (320g icing sugar)
1/2 cup (50g) cocoa
Method
1. Beat butter and cream cheese until pale and creamy
2. Add the icing sugar an cocoa and beat for 6-8 minutes until light and fluffy
3. Ice your damn cake!
NOTE: If you want to make your icing different colours, substitute the cocoa for another 1/2 cup of icing sugar then add the colour you require. This is how I did the green icing on top of the cake above