For those of you who are not from Australia, ANZAC Day (25th April) is a day where we commemorate the landing of Australian soldiers on the coast of Gallipoli in World War One. We remember those who have died serving our country throughout our nations short history, and those who survived. My grandpa was proud of his contribution to WW2, serving in Papua New Guinea and when he grew too frail to march, he always watched the parade on TV. This was my first ANZAC Day without him and I wanted to cook something to mark the day and to remember him.
ANZAC cookies are very popular around this time of year as they are the cookies that people at home sent off to the soldiers during WW1 and  they play an important part in commemorating this day. I love ANZAC cookies, but I felt I needed to jazz them up. After all, my grandpa had flair and a style all of his own. He was no plain cookie. When I found this recipe for ANZAC Tart with Macadamia Praline and Cinnamon Syrup I knew I was onto a winner! Good looking, tasty, and unashamedly Australian.
That is one good looking dessert!
After making the base and tasting the filling, I felt it was too sweet to require the Cinnamon Syrup so I left that part out. I also only added about half the honey listed in the recipe, partly because it was all I had, but mostly because my mum doesn't really like honey and I wanted her to be able to eat it! The little honey I did put in really pervaded the filling so I think the full amount would have been really overwhelming. But after a night in the freezer and several attempts at the Macadamia nut Praline my tart was ready and it sure tasted mighty fine! I would definitely make these again, and they got the double thumbs up from both my mum and my sister.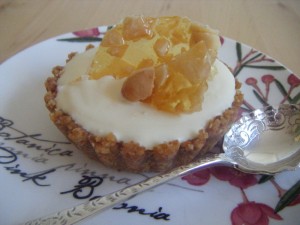 And here is one of the mini tarts!
ANZAC Tart With Macadamia Nut Praline – Adapted from this taste.com recipe
ANZAC Tart
Ingredients
250g ANZAC biscuits
100g butter (I think you could get away with putting 80g in if you are trying to cut down on butter)
1 x 395g can sweetened condensed milk
1 x 300ml thin cream
15ml honey
Method
1. Process cookies into finely crushed crumbs in the food processer
2. blitz in the melted butter until well combined
3. press the cookie mixture into a 24cm tart tin with a removable base (I put them into four tiny tart tins and two medium sized ones)
4. Place tart tins in the freezer to set
5. beat the condensed milk, cream and honey together in a large bowl until the mix has doubled in volume
6. pour over bases and leave to set overnight in the freezer (They really need to go in the freezer rather than the fridge as the filling is more like icecream and wont set properly in the fridge)
Macadamia Nut Praline
Ingredients
80g (1/2 cup) roasted macadamia nuts (If you cant find roasted nuts, you can roast them yourself in a very low oven (about 110 degrees celsius) for about 15 mins or until golden)
155g (3/4 cup) caster sugar
60ml (1/4 cup) water
Method
1. Combine sugar and water in a saucepan over a low heat and cook, stirring for about 5 mins or until the sugar is dissolved
2. Increase the heat to medium and bring to the boil for 10 mins or until the mixture is a lovely golden colour. DO NOT STIR! (I had to wait for maybe 15 mins before my mix started to go golden so dont worry if it takes a while. Just be careful not to let it burn)
3. Pour sugar mix over macadamias on a baking tray lined with paper and leave to set
4. When the praline is hard, break it into shards and use to decorate your tart! Yummo!