When I think of a pretty amazing sandwich, I can see two slices of beautifully soft, fresh white bread framing crisp and succulent greens, a thin smear of home made mayonnaise, marinated artichoke, a few sundried tomatos and some pieces of tangy, tasty salami. It's enough to get me salivating just thinking about it. And then I think of this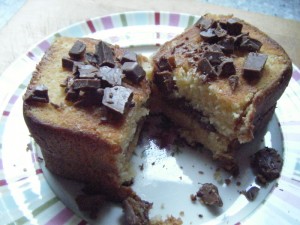 phwoar!
And all my healthy eating plans go out the window. Heart healthy it is not, but tasty and satisfying it most certainly is. A pretty amazing sandwich.
This concoction is simple by nature. Two pieces of Cream Cheese Pound Cake framing gooey, melted lindt chocolate. Normally I don't mind what kind of chocolate you use but today the Lindt Cafe at Martin place had 50% off christmas chocolate. Who could go past that? I had a few pieces of Cream Cheese Pound Cake (the most amazing pound cake in the world) lying around, so I defy anyone to have a different thought process to this
50% off Lindt chocoate –> left over pound cake –>new years resolution to eat healthier –> sandwich? –>chocolate and pound cake sandwich!
ok, so my logic may be flawed.
But this cake is seriously good. Normally I like my cakes gooey and chocolatey and unbelievably sweet, but I would quite happily eat slice after slice of this gorgeous dense pound cake. Hell, I might even choose the pound cake over the chocolate cake! Does that convince you? Not quite? Read on, my lovelies and hear my case!
I found this recipe in a book called Sticky, Chewy, Messy, Gooey by Jill O'Connor that I picked up in England this time last year. With a title like that, cute pastel design and drool-worthy pictures, I was hooked! You can see how cute the page designs are, thats the cookbook in the top left hand corner. And, while im talking about this picture, how good does that cake mix look? This is definitely a cake mix I could consume (new years resolutions be damned!) before even baking.
I may have licked the bowl.
Look at that sucker! All golden and puffy. Deeelicious!
I know all the other cookbooks behind are are envious that they couldn't produce such a fine looking cake. Pipe down Nigella! Back off Bourke St Bakery! Mellow out Magnolia! I still love you all xoxo
Perfecto!
And it is loaf shaped. Like bread. Therefore making it healthier…
(see, I can construct a compelling case)
Apologies for this pic, but I was feeling faint from the heady aroma of cake, melting chocolate and sizzling butter. Can you blame me? You heartless wench!
Once you have made your cake, all you need to do to construct the sandwich is lightly butter one side of each slice of cake, place one piece butter side down on a frying pan on medium heat and scatter it liberally with your crushed or chopped chocolate. Top with the other slice of cake (butter side up) and cook until brown on the bottom, then flip and cook some more, until the chocolate is melted. Voila! A pretty amazing sandwich.
So, my lovelies, what filling would you have in your amazing pound cake sandwich? And will you be taking advantage of some 50% off chocolate this new year? A little bird tells me that you can find discounted chocolatey treats at many supermarkets still…
My Favourite Cream-Cheese Pound Cake – From Sticky, Chewy, Messy, Gooey by Jill O'Connor (The original recipe makes two loaves, I have halved the recipe so as to only make one. Feel free to double it!)
Ingredients
170g unsalted butter
110g cream cheese
1 1/2 cups sugar
1/4 tsp salt
1 tsp vanilla extract
3 large eggs
1 1/2 cups plain flour
1/2 tsp baking powder
Method
1. Make sure all your ingredients are at room temperature and preheat oven to 160 degrees celsius
2. Beat butter and cream cheese until smooth and creamy. With the mixer still running, gradually add the sugar and continue beating until pale and fluffy
3. Beat in the salt and vanilla
4. Add the eggs to the mixture one at a time and beat well after each addition
5. sif the flour and baking powder into the batter and fold in until smooth
6. Pour the mixture into a prepared loaf tin and bake 60-75 mins or until the tops are golden and slightly cracked. Check with a skewer if you are unsure, and if the top is browning too quickly make sure you place some aluminium foil over the top top stop it burning.