I like to make 'to do' lists. I love the sense of achievement that you get when you can cross off an item. However, while I might be organised enough to make these lists, more often than not I will lose them. Counter productive you might think, but… well, yes it is mostly counter productive. Particularly when these lists resurface months later and I realise that I STILL have not completed most of the tasks written there. This blog would be exhibit A.
However, I was very good with my list making before Christmas. Don't believe me? Well, these cookies are proof, doubters! Christmas was more hectic than usual last year so I had to be super organised to get everything done. In particular my cooking list seemed to breed overnight as I over committed myself for dinners, parties, Kris Kringle gifts, co worker gifts etc. This particular recipe from the December issue of the Donna Hay Magazine was a godsend as it was simple to make, easy to assemble and tasted fabulous. In fact, I was so taken with it that I decided to make a KK gift of cookies and hot chocolate with all the cookies coming from that issue. I will post the other two recipes shortly, but thought I would start with arguably the most tasty (or at least most calorific!)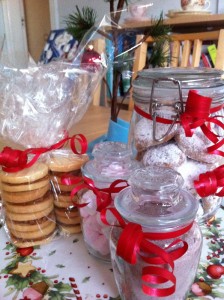 Cookies and hot chocolate!
All you need to do is whack your butter and sugars all together in your mixer
mix in the flour and roll it all flat
cut your dough into circles and bake
until lightly golden – the recipe says 8-10 mins, I barely needed 7 mins in my oven
pipe the caramel onto your cooled biscuit
and sandwich together
Easy peasy! And you can add a little sprinkle of salt to the caramel before sandwiching for more of a salted caramel shortbread feel. I've made these cookies several times since Christmas and they have always gone down well. Easy to make, easy to store, the only thing you need to worry about is rolling your dough too thin, or eating them all in one sitting!
So, lovely reader, are you a procrastinator? Or have you figured out how to get stuff done? And if you're the latter, can you please let me in on the secret? (Writing this post has been on my weekly 'to do' list since January. Go figure.
Caramel Shortbread Cookies – From Donna Hay Magazine
Ingredients
150g butter
1/3 cup (55g) icing sugar
1 tsp vanilla extract
1 1/2 cup (225g) plain flour
2 tbsp cornflour
2/3 cup (200g) dulce de leche (you can also use the Nestle Top N Fill sold in supermarkets in Australia or your own caramel made from condensed milk)
Method
1. Place the butter, sugar and vanilla in a mixer and beat for 8-10 mins or until pale and creamy
2. add the flour and cornflour and mix until a smooth dough forms
3. Roll the dough out (5mm thick) between two sheets of baking paper and place in the fridge for around 30 mins
4. using a 4.5 cm round cookie cutter, cut our your cookies and transfer the dough to a a baking tray
5. bake at 180 degrees celsius for 6-7 mins and check to see if they are done. If not, continue cooking for another few minutes keeping a close eye on these babies!
6. cool cookies on a wire rack
7. Pipe caramel onto half the cookies and sandwich with the remaining ones