Sometimes I think that the following confession makes me quite un-Australian. But I cannot change the way I feel, I just really love Winter. Summer is nice and I like to go to the beach and spend time outside just as much as the next person but there is something so snuggly about winter that makes it my favourite season. I love winter pjamas, flannel sheets, hot chocolate, reading in bed on a blustery, rainy morning, roast dinners, open fires, winter wardrobes, is there anything not to love? I have spent christmas in the european winter a few times now and I love that you can eat all the traditional food and its not stinking hot. I mostly love that I can cook whatever I want whenever I want because it's never too hot to have the oven on.  So im not particularly put out by this crazy change in the weather we are currently experiencing in Sydney as it makes the putting up of decorations and the cooking of christmas treats much less sweaty. And so, my lovelies, I put the oven on today, this cold and rainy day in DECEMBER… and made this
Stephanie Alexanders' Rhubarb Cinnamon Cake
The recipe was astonishingly simple with no need to stew or pre-cook the rhubarb. The yield was one family size delicious cakey/puddingy dessert with tangy sweet rhubarb, fragrant cinnamon and lots of crunchy munchy topping. Just the thing to eat with a cup of tea while watching Love Actually (lets face it, it really is time to break out the Christmas movies).
All you do is start with some ruby red rhubarb stalks
Chop them up. I think the chopping is quite theraputic
See, the red and green of the rhubarb marks the onset of the festive season. In fact you might want to bust out some of your christmas cds to listen to while cooking this
Whiz your cake batter in the food processor. Look! It matches the stand mixer from my last post 😀 hooray! And it's red… see… christmas….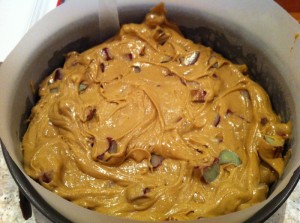 Stir through the rhubarb pieces and dump it all in a cake pan
And not too long after you can pop this baby out
Perfect delicious crispy crunchy top, and moist crumb with flecks of deep pink rhubarb.
JOY!
Just a step up from a plain old tea cake, the cinnamon addition gives it a bit more depth and the rhubarb adds colour and texture. You could probably cook it a bit longer to get it firmer in the middle but I love it more moist and pudding like. A super easy way to warm you up on a cold Summer winter day. I defy you to eat this cake and not feel comforted and cuddled. So, my lovelies, what do you like to cook/eat to warm you up when you are cold and feeling miserable?
Rhubarb and Cinnamon Cake from The Cook's Companion by Stephanie Alexander
Ingredients
80 g unsalted butter
300g plain flour
380g brown sugar
2 eggs
a few drops of vanilla essence
1 tsp salt
1 tsp bi carb soda
1 tsp ground cinnamon
grated zest of 1 lemon
1 cup sour cream
400g rhubarb (cut into 1 cm pieces)
1/4 cup brown sugar (for the topping)
1 tsp ground cinnamon (for the topping)
Method
1. Mix together the butter and sugar
2. add the eggs and vanilla
3. sift together the flour, salt, bi carb and cinnamon then add to the food processor and pulse a few times to combine
4. Add the lemon zest and sour cream then transfer to a large bowl and stir in the rhubarb
5. pour into a 24 cm round tin that has been greased and lined with paper
6. Mix together the brown sugar and cinnamon and sprinkle evenly over the top of the cake
7. Bake at 180 degrees celsius for 1 1/4 hours or until a skewer inserted comes out clean