So the sun is out, the sky is blue and there are still so many sweet, sweet strawberries. What more could you ask for? Today at least, it really feels like summer. One of the things I love about this season is the number of colours around. The blue green of the ocean, the bright and pastel colours of all the flowers in bloom, gorgeous yellow sun. In 2011 I figured that this year should herald a new swimming costume and towel in honour of the first summer in years i've actually been able to spend at the beach.
Pretty lilac and icecream colours!
To go with this new injection of colour, I felt it was time I made an icy treat worthy of being a post swim snack. Strawberry Sorbet. Mmmmmmmm a very simple recipe with few ingredients and minimal prep time. Just the thing to make on a day like today.
This recipe is very very easy to make, as long as you have lots of pretty little strawberries at your disposal. You need to puree your washed and de-headed strawberries in a blender until smooth. Always make sure you clean your blender properly. When I took the lid off to put in the strawberries, there was an awful smell in my blender. I took it apart and realised I hadn't washed it properly the last time I used it and some of the seals had dried up mould on them. Um… extra protein? No! I cleaned that sucker thoroughly this time – before AND after strawberrying.
It's clean now. I promise!
Then you need to pop some sugar, lemon juice and lemon peel in a pan with some water and cook to dissolve the sugar.
Add the strawberry puree and a few tablespoons of milk. (This seemed to curdle a little so I probably wouldn't bother with the milk next time)
Churn in your machine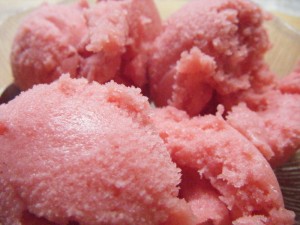 And voila! Sweet, soft, icy strawberry sorbet. Best thing to cool you down on a hot summer day.
And it matches my sunburn. Ouch!
So. lovely readers, what do you love most about summer? Or do you hate summer and can't wait until winter? Im intrigued!
Strawberry Sorbet – From Apples for Jam by Tessa Kiros
Ingredients
500g fresh strawberries, stalks and leaves removed
180g sugar
Juice of half a lemon
One fairly long strip of lemon peel (I used a vegetable peeler – try not to get any pith with your peel)
375 ml water
4 tbsp milk (optional)
Method
1. Puree the strawberries until they are totally smooth (I sieved the mixture afterwards because I HATE seeds in my icecream, but if you like to include them, just put the mixture into a medium sized bowl and bother sieving)
2. Put the sugar, lemon juice and lemon peel in a pan with the water and bring to the boil. Cook, stirring until the sugar has completely dissolved then take off the heat and cool for 10 minutes
3. Take out the lemon peel and pour the sugar mixture into the strawberrry puree.
4. Here is where you add the milk if you want to. When I added it to mine, it seemed to curdle and didnt combine properly until I mixed it very vigorously. It didn't seem to harm the sorbet at all so I would say go with it unless you have an objection to milk. I might skip this step though next time.
5. Put your mixture into the fridge until it is completely chilled. You might want to do this overnight. Then add to your ice cream machine and churn according to the manufacturers instructions.