I don't like change. I think I may have said that before on this blog but i'll certainly say it again. Perhaps I should qualify that statement, I don't like change that I can't control. But this life is a funny old thing and I have come to realise that some change can be good. So changing seasons, while I can't control them, is something I can at least anticipate and therefore does not fall into the category of change that I don't like. Now that it is really feeling like Spring (with a little bit of Autumn and Summer thrown in to boot) I can enjoy the changes that are going on around me.
Exhibit A: Beautiful flowers
Aren't they beautiful? Dodgy shots aside, they were given to me by some departing students and they bloomed in my kitchen for weeks and weeks. Vibrant and pink and fragrant and generally representative of everything that is good in the world. Good choice!
Exhibit B: Beautiful flowers growing in the garden
Planted of course by the mothership who likes to get up at incredible hours in the morning to potter around and make the place beautiful. I, however, cannot be trusted to keep things like these growing. In fact, the only reason Exhibit A lasted so long is because the mothership watered them. I didn't realise that you had to continually refill the vase… oops…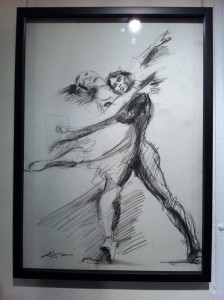 Exhibit C: Gorgeous artwork
After attending Alan Somerville's new exhibition Sagacity held at the wonderful Glebe gallery Salerno Gallery I was mesmerised by the sketches of ballet dancers and flamenco dancers. These sketches were done by Alan in preparation for his more time consuming sculptures (which are equally amazing) and I could not leave without making sure that this baby was coming home with me. Please forgive my terrible terrible iphone shot, I will make sure to do this art work justice when I get it home. Just take my word for it, it is absolutely stunning.
 Exhibit D: Packages of books in the mail
I went crazy on Book Depository a few weeks ago and bought an enormous stack of books to wade through over the Summer break. A mix of classics, favourites and books that came highly recommended I have already finished my first book and am devouring my second. Hooray for literature!
Exhibit E: The purchase of a vintage tea cup, saucer, entree plate and sugar bowl
I did quite a bit of road tripping in the last holidays and ended up in the Souther Highlands town of Robertson. Here my friend and I visited the many antique stores and I came back with this beautiful set. The pattern is Wedgewood 'Runnymede' and I am very much in love. I defy you not to be.
Exhibit F: Passionfruit Souffle with Banana and Mango Sorbet and creme chantilly
AND
Exhibit G: Valrhona Chocolate Mousse with Mandarin and Vanilla Bean Ice Cream
What would this post be without a homage to at least one thing sweet and delicious?
My boyfriend and I recently dined at Guillaume at Bennelong to celebrate our anniversary. The entire experience was magnificent and it was a wonderful evening. I am not a fan of taking photos of the food i'm eating at a restaurant but when these desserts came out, we couldn't help ourselves! Delicious, fruity and rich, they were both impeccable and were a perfect way to round off the evening. I was particularly impressed by the helpfulness and professionalism of all the staff from the lady who took our reservation to the continuously beaming waiter who made us feel like we were the only two diners in the restaurant who were important. What an evening!
 So, my lovelies, although this post was meandering and not really to the point, I promise I will resume normal transmission soon. What are some of the things that you have been enjoying lately?