When I saw this cake as baked by the gorgeous Not Quite Nigella I thought "it can't be done". Even though the proof was staring me in the face. Yes, I am quite adept in the art of disbelieving certain indisputable facts. I think thats why I was never much good at maths.
Despite my irrational doubts, I knew it was something I needed to try. After reading the instructions once, twice, three times I thought I might be ready to attempt this recipe. And for once, I took progress shots! Savour it now because we all know that it wont last.
Ok so not quite progress shots, but look how great that springform tin looks! Aint no water getting into that baby!
Cake tin avec cake mix!
I like to think of the above picture as my "ta dah!" moment. A sort of "now you see it now you don't" in reverse. Im starting to wonder whether my inability to document the actual construction of the cake might bear testament to my inability to believe it could be done. Did I mention that I very much subscribe to the belief of "out of sight, out of mind"? Still, it was only a tin of raw cake mix, all a manner of things could go wrong before the cake was finished…
I don't think you can really see it in the picture but the roasting pan is full of water. Pretty nifty water bath hey!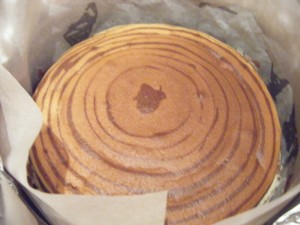 It seems that all a manner of inexplicable forces are wrapped up in this cake. Note the mystery of the shrinking edges! I think there are a good few centimeters between the cake and the edge of the tin. Where did they go? Nobody knows!
But boy, it sure looks good!!
And look at those stripes! Success!
While this cake was unbelievably light, it was a little too delicate in flavour. The Mother Ship demanded the addition of chocolate. So I obliged.
Do you think there's enough ganache there?
So, my lovelies, I urge you to try this cake yourself. If you are into the more subtle flavours then this is absolutely for you. If you like your cakes to pack a little more punch, then add some of your favourite ganache and rub your little hands with glee! Whatever your tastes are, you can be sure that you will be the proudest person ever when you successfully complete this recipe!
Zebra Cheesecake Recipe found HERE