So the bunny has been, the long weekend has ended and I still have easter eggs left on my kitchen table. I think there might be something wrong with me. I did get sick over easter, so perhaps the sickness entered my brain and altered my chocolate lobe? Are there any doctors out there that can recommend treatment? Particularly as I feel like I cannot scavenge for half price eggs this year as they might just end up going to waste. Although if YOU, my lovely reader, have been able to scrounge some super cheap eggs or have any left over and are wondering what to do with them, read on. I have some suggestions. Either way, here is the story of my easter and the terrible affliction that I seem to have been left with.
It started with a strange anomaly with the bourke st bakery flourless chocolate cake.
I only had one piece. Yes, you read that right. One.
No matter, no worries, all things must pass. Right?
Wrong.
Out of all these easter goodies from my beautiful students, I just didn't feel like eating much.
Even my favourite Lindt bunnies seemed to have lost their jingly allure.
so I put these cute bunnies on top of some cupcakes to take to the S family for easter.
Didn't actually eat any. Despite them being super cute.
I rallied a little with some delicious easter afternoon tea at the Observatory Hotel
Which was, as always, fantastic.
Brilliant service, lovely food, a vast array of tea and great ambiance, I cannot recommend them highly enough.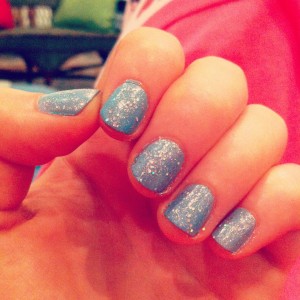 I also gave myself an easter mani with Bloom 'Corfu' and OPI 'Teenage Dream'. I thought it made them reminiscent of the shimmery easter egg foil and might induce some chocolate appetite.
But I still had many eggs left over. So I decided that I had to get baking and sort myself out.
Which led me to these Easter Egg Brownie Bites. Perhaps one of the easiest recipes ever.
And it's therapeutic! Sorry Mr Bunny, but you had to go.
After all, perhaps all I needed to do to appease the chocolate gods and restore me to health was a sacrifice?
It is a one bowl recipe and doesn't even require a mixer of any sort! Easy!
Hide your eggs in the brownie batter (and relieve your lovely weekend memories of easter eggs hunts!)
then bake, bake, bake, my pretties!
Just 12 minutes is all it takes
And then enjoy the warm, gooey, melty centre.
Good lord, these are tasty and last for days as all they need to restore gooey-ness is to be nuked for 30 seconds in the microwave. And, even better, they used up two packets of small easter eggs and make great gifts for morning/afternoon teas.
So, my lovelies, now that I have helped you with your easter egg excess, are you able to help me with my predicament? Do I just need to bite the bullet and eat all the chocolate in order to re-store my factory settings? This blog has documented my love of chocolate over the last two years and I refuse to believe that this is a permanent state of nonchalance re: chocolate. Send me your solutions!
Easter Egg Brownie Bites – Adapted from this recipe from taste.com
Ingredients
150g unsalted butter
100g dark choc easter eggs
100g Lindt milk chocolate easter bunny, chopped.
1 packet mars bar easter eggs
1 packet malteser easter eggs
1/2 cup caster sugar
1 cup plain flour
2 eggs, lightly beaten
Method
1. lightly grease your mini muffin pan (1 1/2 tbsp capacity) and heat your oven to 160 degrees celsius (fan forced)
2. place butter, dark chocolate eggs and chopped up bunny into a microwave safe bowl and nuke them all on 50% power for 2 mins. Make sure that you pause every 30 seconds to stir your chocolate around, you don't want to burn it!
3. Stir in sugar and leave to cool slightly
4. mix in the flour then eggs making sure that you incorporate each ingredient properly
5. spoon the mix into your muffin pan. As there is no rising agent in this mix you can safely fill them almost to the top of the hole, just remember that some of the batter will be displaced by the egg when you insert it
6. unwrap your easter eggs and push them into the centre of each hole making sure to cover the top of the egg with batter
7. bake for 12 mins
8. eat while still warm!
Note: these will store for a few days if left in an airtight container. If you want to heat them up again (which I highly recommend) you just need to pop them under the grill for a few mins or put them in the microwave for 30 seconds